Tongass Roadless Rule Reinstated
Murkowski, Sullivan: Tongass is a National Forest, Not a Political Football
Posted and Edited By MARY KAUFFMAN
January 29, 2023
Sunday

(SitNews) Ketchikan, Alaska - The U.S. Department of Agriculture (USDA) last week finalized protections for the Tongass National Forest in Alaska, the world's largest intact temperate rainforest. USDA's final rule, announced January 25th, repeals the 2020 Alaska Roadless Rule and restores longstanding roadless protections to 9.37 million acres of roadless areas that support the ecological, economic and cultural values of Southeastern Alaska.
On his first day in office, President Biden committed to reviewing rules – such as the 2020 Alaska Roadless Rule – that may conflict with important national objectives including protecting the environment. This action is among a series of steps the Biden-Harris Administration has taken to conserve and restore some of America's most cherished lands and waters, many of which are sacred to Tribal Nations.
"As our nation's largest national forest and the largest intact temperate rainforest in the world, the Tongass National Forest is key to conserving biodiversity and addressing the climate crisis," said Agriculture Secretary Tom Vilsack. "Restoring roadless protections listens to the voices of Tribal Nations and the people of Southeast Alaska while recognizing the importance of fishing and tourism to the region's economy."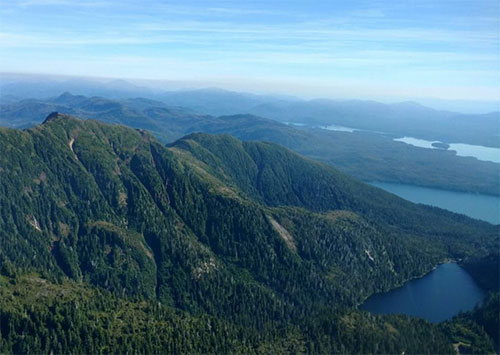 A small glimpse of the 16.7 million acres of the Tongass National Forest
Photo courtesy The Central Council of the
Tlingit and Haida Indian Tribes of Alaska (Tlingit & Haida)
At 16.7 million acres, the Tongass National Forest represents the largest intact tract of coastal temperate rainforest on earth and is considered critical for carbon sequestration and carbon storage to help mitigate climate change. America's forests are a key climate solution, absorbing carbon dioxide equivalent to more than 10% of U.S. annual greenhouse gas emissions.
According to the U.S. Dept of Agriculture, this final rule is based on the multiple ecological, social, cultural, and economic values supported by roadless areas on the Tongass, and follows months of engagement with Tribes, rural communities, and partners. The Forest Service received about 112,000 comment documents from individuals and organizations during the public comment period between November 2021 and January 2022 -- the majority of which were in favor of restoring roadless protections. The agency reviewed, analyzed and applied this input, alongside the input received during the 2020 rulemaking, to inform USDA's final decision. USDA also consulted with Southeast Alaska Tribal Nations.
Repealing the 2020 Alaska Roadless Rule, which exempted the Tongass from roadless protections, will return the inventoried roadless areas of the forest to management under the 2001 Roadless Rule, which prohibits road construction, reconstruction, and timber harvest in inventoried roadless areas, with limited exceptions. USDA determined that the underlying goals and purposes of the 2001 Roadless Rule continue to be a critical part of conserving the many resources of the Tongass, especially when it comes to the values that roadless areas represent for local, rural communities, Alaska Native peoples, and the economy of Southeast Alaska.
"[Wednesday's] announcement reflects our continued focus on listening to Tribal Nations and people in Southeast Alaska," said USDA Under Secretary for Natural Resources & Environment (NRE) Dr. Homer Wilkes. "Protecting the Tongass will support watershed protection, climate benefits, and ecosystem health and protect areas important for jobs and community well-being – and it is directly responsive to input from Tribal Nations."
U.S. Senator Lisa Murkowski (R-AK) said, "The Roadless Rule should never have applied to the Tongass, and the Biden administration's decision to reinstate it is federal paternalism at its worst. Roughly 80 percent of the Tongass is already protected through existing law, land use designations, and the forest planning process, and there is no threat of large-scale development from timber harvesting or any other activity."
Murkowski said, "With this decision, the Biden administration is turning the Tongass into a political football, where access changes with each new President and creates whiplash for those who might want to invest or build in Southeast Alaska. We should see this for what it is: a regulation in spite of reality that will only serve to make it take longer, cost more, or outright impossible to develop the limited infrastructure - including renewable energy - necessary for a sustainable regional economy."
U.S. Senator Dan Sullivan (R-AK) said, "The Biden Administration has now unleashed 42 executive orders or actions targeting Alaska and the economic well-being of our citizens. No other state in the Union is getting such targeted and unwanted attention from the Biden administration. I have repeatedly called on President Biden for a ceasefire in his war on Alaska's working families, but to no avail,"
Sullivan said, "Alaskans in Southeast - like any Americans - have a right to connect their communities, sustain local economies, build renewable energy projects, and responsibly harvest resources. But the Forest Service's return to the overly-burdensome 2001 Roadless Rule totally undermines all of those. My message to hard-working Alaskans who are being crushed and utterly disregarded by this Administration: I will fight this and other Biden Administration anti-Alaska actions with everything in my power."
"This decision is a huge loss for Alaskans," said Alaska Governor Mike Dunleavy. "It's yet another way the Biden administration is singling out Alaska. Alaskans deserve access to the resources that the Tongass provides – jobs, renewable energy resources, and tourism, not a government plan that treats human beings within a working forest like an invasive species."
"This unfortunate decision is a blow to the economic and socioeconomic development of Southeast Alaska. It marks another bitter chapter in this long-running saga, once more forcing the State and its citizens to pay the costs of near-absolute preservation. It denies them the most basic and fundamental developments of society, which are taken for granted in nearly every other part of the country." said Alaska Attorney General Treg Taylor.
"Alaska's communities and our regional needs are vastly different than the rest of the nation, and this should continue to be recognized though a common-sense management approach in the Tongass National Forest," said DNR Deputy Commissioner Brent Goodrum. "The State's unique and targeted exemption to the sweeping national Roadless Rule was a successful example of public policy allowing appropriate access in a small fraction of the immense Tongass. Continued access would have enhanced subsistence, energy security, recreation, transportation, resource development, and public safety in a multiple-use forest for the direct benefit of the people of Southeast Alaska."
However, there were many who welcomed the reinstatement of the Tongass Roadless Rule.
Southeast Tribal Leaders from the Organized Village of Kake, the Organized Village of Kasaan, Ketchikan Indian Community, Skagway Traditional Council, the Organized Village of Saxman, the Hoonah Indian Association, the Craig Tribal Association and the Central Council of Tlingit and Haida Indian Tribes of Alaska also commented on the reinstatement of Tongass Roadless Rule.
"Southeast Alaska Tribes appreciate the progress the United States Department of Agriculture has made toward implementing the Southeast Alaska Sustainability Strategy (SASS) and, specifically, the process leading to today's announcement on the reinstatement of national Roadless Rule protections on the Tongass National Forest.

Our Southeast Tribes have always prioritized actions necessary for preserving our ways of life, including advocating for the Roadless Rule and working to protect our traditional and customary hunting, fishing, and gathering areas within our traditional territories. We have engaged tirelessly throughout the Roadless Rule process — some of us for more than 20 years — to bring Tribal concerns to the forefront of the conversation through consultation and legal means.

The return of the 2001 Roadless Rule protections signals a commitment from the agency to address the climate crisis and finally listen to the Southeast Tribes that will continue to be most impacted by climate change effects.

We are thankful to the Biden administration and the USDA for listening to our concerns and presenting a different approach. We are optimistic that we will be able to create long-term protections for areas inherent to our traditional and cultural uses through our Administrative Procedures Act Petition for a Traditional Homelands Conservation Rule and co-management opportunities.

As the USDA works to repair its relationship with our Tribal governments and communities on the ground, the agency will continue to be an integral partner in creating a future for the Tongass that is guided by collaboration, Indigenous leadership and values, the needs of future generations, and sustainable economies that will heal the divisions of the past."
Joel Jackson, President of the Organized Village of Kake, explained the importance of the forest to Indigenous people. "We are tied to our lands that our ancestors walked on thousands of years ago. We walk these same lands and the land still provides food security — deer, moose, salmon, berries, our medicines," he says. "The old-growth timber plays an important part in keeping all these things coming back year after year; it's our supermarket year around. And it's a spiritual place where we go to ground ourselves from time to time."
"... I and the KIC Tribal Council are celebrating the repeal of the 2020 Alaska Roadless Rule," stated KIC President Norman Skan.
Skan said, "As one of five Southeast Alaskan tribes who joined in the fight around the roadless rules, we are thrilled that the USDA's ruling restores protections to 9.37 million acres of the Tongass National Forest - our ancestral homeland. This ruling will help protect the lands that our Tlingit, Haida, and Tsimshian people have lived in and stewarded for generations. It guards our old-growth forests and streams, protects healthy habitats, and safeguards our way of life for future generations. Ultimately, the restoration of 2001 Roadless Rule indicates the government's recognition that it is importance to seek and listen to tribal input when making land management decisions in the future."
"The USDA has rectified a critical issue for our people who are most impacted by decisions affecting the Tongass," said Tlingit & Haida President Richard Chalyee Éesh Peterson. "Our way of life is intertwined with these lands and waters, and we have a deep interest and duty to protect the traditional lands of our people in perpetuity."
Quoting a Tlingit & Haida press release,
"Following the State of Alaska petitioning the USDA to consider exempting the Tongass National Forest from the Roadless Rule in 2018, the Trump administration wrongly issued a final ruling to fully exempt it in 2020.

This all occurred after tireless efforts from Southeast Alaska tribal governments to reach a compromise on the state and federal level and secure meaningful government-to-government consultations.

Throughout the public process, Southeast Alaska tribes provided testimony at consultations, public meetings and subsistence hearings, as well as written comments. With our homelands under threat, it became clear Southeast Alaska tribes had to advocate for the Roadless Rule of 2001 to be reinstated . Southeast Alaska tribes even petitioned the federal government to implement a Traditional Homelands Conservation Rule that would require more robust consultation in the management of the lands we depend on and to protect the traditional and customary uses and areas of Southeast Alaska important to our people."
"For so many reasons, we depend on a healthy, intact, forest ecosystem," said President Peterson.
Peterson said, "We need it to mitigate the impacts of climate change and our fish and wildlife depend on it to provide a healthy ecosystem with clean waters and old-growth forests. Our homelands must be managed for the benefit of our people and with our traditional knowledge, stewardship practices and priorities integrated. There is an immense sense of relief in knowing our forests are no longer vulnerable to unchecked road construction, logging, and other large-scale industrial development. "
Quoting Sue Libenson of the Defenders of Wildlife, "Much of the initial coverage of [Wednesday's] decision to reverse Trump administration policy and to reinstate protections for roadless areas in Alaska's Tongass National Forest focused disproportionately on the negative reaction of Alaska's congressional delegation. Yet, a wide spectrum of voices has worked for years to reinstate protections for this national treasure."
Libenson said, "In a win for Southeast Alaska communities, wildlife, and the climate, the U.S. Forest Service reinstated Roadless Rule protections across the Tongass rainforest in Southeast Alaska. Tribal leaders, recreational small-business owners, commercial fishing operators, and conservationists cheered the agency's restoration of this critical safeguard. The move restores federal protection — from industrial logging and damaging road-building — to just over 9 million undeveloped acres in America's largest national forest."
Quoting a press release from the Alaska Sustainable Fisheries Trust and the Alaska Longline Fishermen's Association, "Southeast Alaska fishermen have relentlessly advocated for this habitat protection. Annual commercial fisheries dividends from the Tongass include 300 million pounds of seafood, 10,000 jobs and $700 million total economic impact each year on Southeast communities, as well as 72% of southeast Alaska's coho and 60% of pink salmon."
The Tongass is the homeland of 19 sovereign Indigenous nations including the Tlingit, Haida, and Tsimshian peoples. It is home to more than 73,000 residents across 35 communities and directly accounts for 26% of sustainable jobs in the region, contributing $1 billion to Southeast Alaska's economy each year.
"We are thrilled and relieved to know the Tongass' remaining unroaded areas will remain intact vibrant forests for generations to come," said Linda Behnken, Executive Director of Alaska Longline Fishermen's Association. "Our fisheries depend on healthy habitat, and with climate change driving ocean warming, protecting habitat is increasingly important to the fish, the fisheries, and the coastal fishing communities. This is welcome news."
"Southeast Alaska is in an exciting new era. We look forward to working with the Forest Service as Alaskans figure out how to make tourism, fisheries, and the Tongass National Forest work better for Alaskans," said Dan Kirkwood, Southeast Futures Program Manager (SalmonState).
Kirkwood said, "The Sustainability Strategy is where I'm seeing energy and opportunity to develop co-stewardship with Tribes and new ways of doing business that are scaled to our communities. This decision allows working forests and protects the things we love about Southeast."
Quoting a press release from SalmonState.org, "Wild salmon are deeply important to the region. The forests birth 25% of the wild salmon caught on the West Coast. Wild salmon spawned in the Tongass's more than 5,000 salmon streams not only nourish the ecosystem, traditional ways of life and Southeast Alaskans, but the economy: commercial fishing contributes $1 billion to Southeast's economy each year and is one of the region's biggest employers. Fishing and the visitor industry, which attracts people from around the world and relies on Southeast Alaska's dramatic natural beauty, together account for 25% of Southeast Alaska's employment."
The Tongass' old growth is also an important buffer for climate change. The Tongass contains the greatest concentration of old-growth forests in the nation, storing a massive amount of carbon, said SalmonState.org.
Lauren Cusimano Communications Lead with the Southeast Alaska Conservation Council provided a press release the included five pages of comments from a wide range of supporters of the reinstatement of the Tongass Roadless Rule. Because of the five page length and to allow people to comment on the decision, please click here to read all the unedited quotes.
According to the Alaska Dept. of Law, the former 2001 Roadless Rule remains a national, one-size-fits-all regulation that unlawfully limits opportunities for Alaskans who live and work in the Tongass region. The State and Alaska's Congressional Delegation have worked over six consecutive terms of governors (Democratic, Independent, and Republican) to exempt the Tongass from the 2001 Roadless Rule.
Quoting a news release from the Dept. of Law, reinstatement of the 2001 Roadless Rule fails to meet the stated purpose and need established in the administrative record and fails to adequately respond to the State's petition for rulemaking, which prompted the adoption of the 2020 Alaska Roadless Rule, and ignores the recommendations from the Alaska Roadless Rule Citizen Advisory Committee. The decision ignores the fact that the Tongass contains more IRAs than any other forest in the National Forest System, which has and will continue to be appropriately managed at the forest plan level, as determined in the 2020 Alaska Roadless Rule Record of Decision.
Reapplying the 2001 Roadless Rule to the Tongass violates unique Alaska and Tongass-specific statutory provisions of the Alaska National Interest Lands Conservation Act and Tongass Timber Reform Act and resumes a flawed and biased decision-making process for determining whether an activity is subject to one of the 2001 Roadless Rule exceptions.
Source of News:
U.S. Dept of Agriculture
www.usda.gov

Alaska Dept of Law
www.law.alaska.gov

The Central Council of the Tlingit and Haida Indian Tribes of Alaska
(Tlingit & Haida)
ccthita-nsn.gov

Office of U.S. Senator Lisa Murkowski
www.murkowski.senate.gov

Office of U.S. Senator Dan Sullivan
www.sullivan.senate.gov

Ketchikan Indian Community
www.kictribe.org

SalmonState
www.salmonstate.org

Defenders of Wildlife
www.defenders.org

Alaska Sustainable Fisheries Trust
www.thealaskatrust.org

Alaska Longline Fishermen's Association
www.alfafish.org

Southeast Alaska Conservation Council
www.seacc.org
Representations of fact and opinions in comments posted are solely those of the individual posters and do not represent the opinions of Sitnews.


Send a letter to the editor@sitnews.us
Contact the Editor
SitNews ©2023
Stories In The News
Ketchikan, Alaska

Articles & photographs that appear in SitNews are considered protected by copyright and may not be reprinted without written permission from and payment of any required fees to the proper freelance writers and subscription services.

E-mail your news & photos to editor@sitnews.us

Photographers choosing to submit photographs for publication to SitNews are in doing so granting their permission for publication and for archiving. SitNews does not sell photographs. All requests for purchasing a photograph will be emailed to the photographer.